Dividend 2015-16
We pay a dividend to our members based on our financial performance for the year and the dividend is normally declared at our AGM after our accounts have been approved by our independent auditors.  Although our financial performance in 2015-16 was broadly similar to that of 2014-15 when we paid a dividend of 2%, due to a change in accounting standards we are unable to pay a dividend for 2015-16. Although dividends are never guaranteed, we realise that this will be disappointing to you as it is to us. However we would like to assure you that we are remain in good financial health and below provide below some more detail about the situation.
Our annual accounts are prepared in consultation with an independent auditor, a process that ensures that we are properly and honestly run, and meet all of our legal requirements.  Our accounts for last year were our first to be prepared in accordance with a new accounting standard (FRS102), which applies to companies across the UK and the Republic of Ireland. One impact of this mandatory change is the way in which dividends are handled.
In the past, our profit for a particular year was placed into a reserve, and released the following year to cover the cost of the dividend payment.  The change has meant that the funds we set aside in 2016 can no longer be released for this purpose, and can only be transferred to our General Reserve.  This is still a positive thing, as it helps guarantee our long-term stability.  It does mean that, for one year only, we have been forced to treat our dividend payment as an expense in its own right rather than one that is covered by the previous year's profit.  The unavoidable result of this was that our profit for 2015-16 was drastically reduced.
We would have preferred this transition between standards to have been smoother, but we hope our members understand that we need to fully comply with all legislative requirements, and that this was a 'one-off' situation that is now behind us.  Going forward, depending on our financial performance, our members can again anticipate receiving dividends on their savings.
If you have any further questions or would like a copy of our audited accounts for the last year, please contact the office and we will be happy to help.
DFCU Board of Directors
Our New Home !
We are delighted to announce that thanks to the generosity of Dacorum Borough Council our office is now in their new building – The Forum.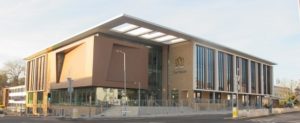 From Tuesday January 31st our new address is:
Dacorum First Credit Union
The Forum,
Marlowes,
Hemel Hempstead,
Hertfordshire
HP1 1DN
Our phone number and opening hours have not changed.
Cutoff Time For Loan Applications
Please note that in order to assist our volunteers who process loans, the the latest time for handing in loan applications is now 12 noon on Tuesdays to receive your loan on Friday.
If your application is handed in after noon on Tuesday you will receive your loan (if it is approved) on the Friday of the following week.